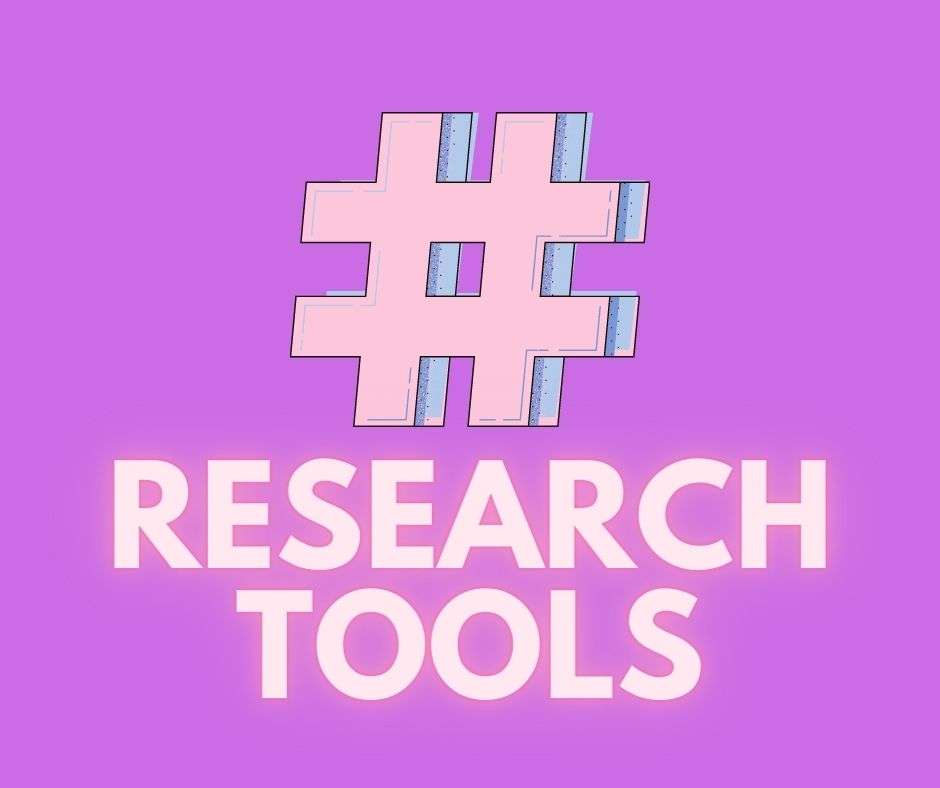 Social media is a place where people interact with each other. They share their thoughts and experiences with others in a direct manner. Social media has changed the way we communicate with people. It has helped us to connect with unknown people, expand our social circle and meet new friends. All these things are possible only because of social media.
You can make your instagram, Twitter and other social posts more interactive and engaging if you know how to use hashtags effectively. They also allow you to add context to your tweet by categorizing it under different hashtags, which helps search engines to find relevant content.
It also helps people who don't use social media to understand what you are talking about in your post and may even share it with their friends if you have used a relevant hashtag.
Hashtag research tools can save you time and money. It can help you narrow down your audience and the topics you want to write about, which frees up your time to focus on other aspects of your content.
9 Best Hashtag Research Tools
Looking for the best hashtag tools? We got you. Here are some of my personal favourite hashtag research tools: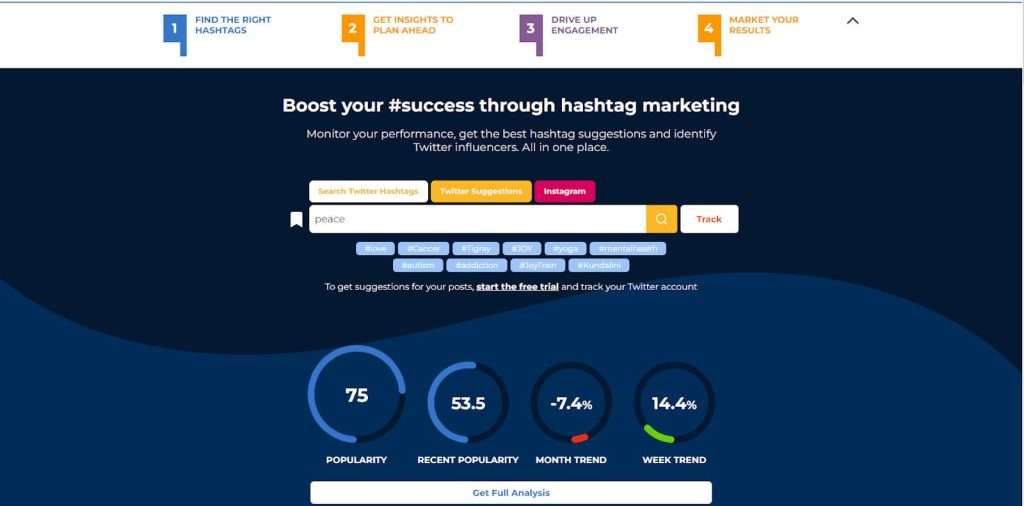 Let's start our list of hashtag research tools with Hashtagify. Hashtagify is a hashtag tracking tool to find the most popular hashtags trending on Twitter. It analyzes your Hashtag and provides you with the top most popular hashtags in the world. There is also a cool feature that shows how long ago each Hashtag was created.
Hashtagify is a great hashtag tracker best for doing research on social media hashtags. You can find out how many users are using a particular hashtag, what the most popular hashtags are, and how many users are posting pictures with that specific Hashtag.
Pricing
It comes with a 7-day free trial. There are three plans: Personal ($29/month), Business (486/month), and Enterprise ($311/month).
Pros
Advanced Hashtag tracking
Customized suggestions
User-friendly interface
Faster way to add hashtags
Cons
High prices which may not be affordable for many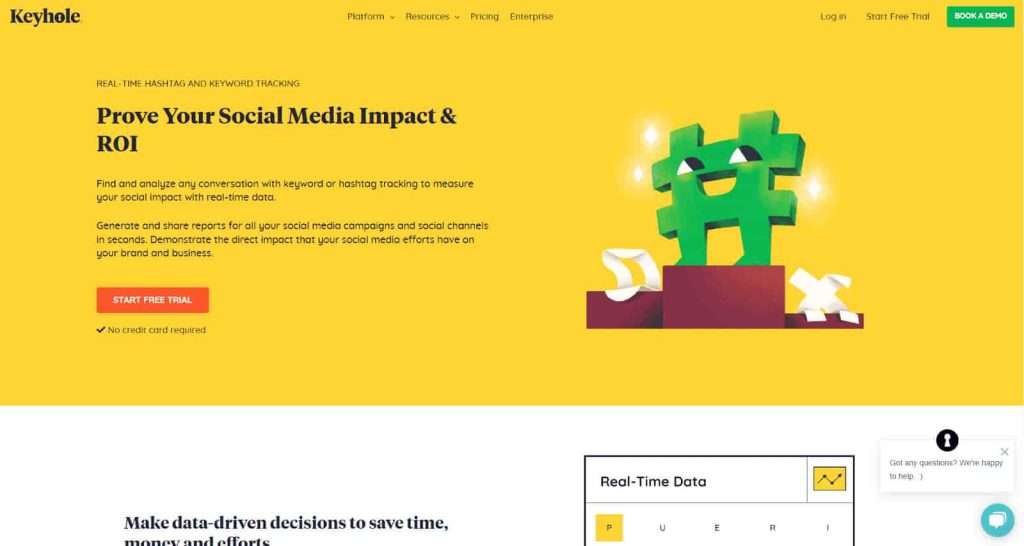 A keyhole is an online hashtag research tool that helps you track and analyze all the hashtags used in your social media campaigns. You can also find out which hashtags are trending at any given time, as well as see how many times a particular hashtag has been used in an hour or day.
Pricing
There are three plans: Standard ($99/month), Team (199/month), and Enterprise (custom pricing).
Pros
Customized pricing helps you choose a plan of your choice
No technical experience is required to use it
Fast implementation of hashtag strategies
Cons
This could be costly for individuals with a tight budget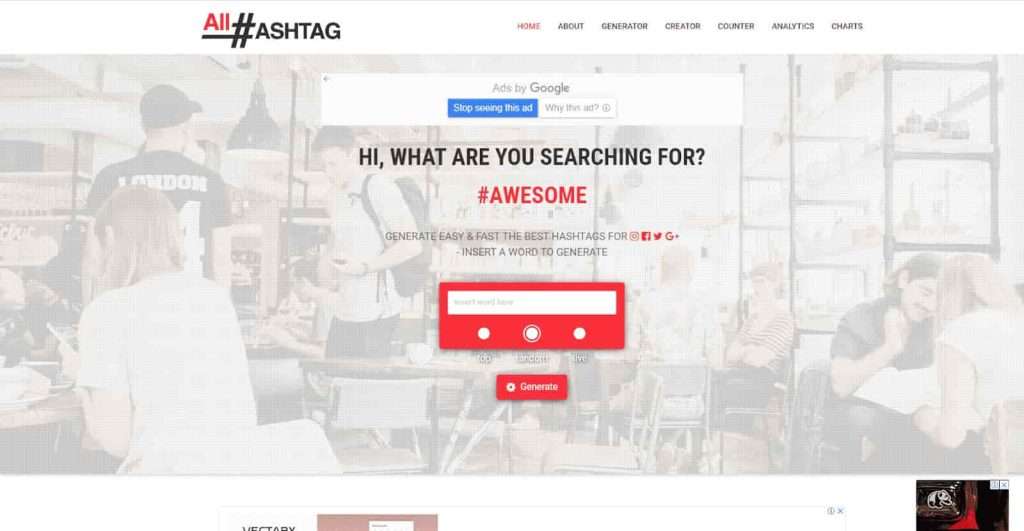 All-Hashtag is a completely free hashtag research tool that searches all data sources at once to provide you with the most comprehensive list of available hashtags. It has recently been updated with a new interface and improved performance, which makes it easier than ever before to find what you're looking for.
The All-Hashtag hashtag researcher searches through all of the hashtags that have ever been used on social media and displays them in a list format. You can also use this hashtag analysis tool to generate new hashtags based on your interests and see how many times they have been used so far in the future as well.
Pricing
Completely Free
Pros
It comes with charts and analytics
Free to use
Ability to generate top, random, and live hashtags
Cons
Results might not be as accurate as can be seen with paid hashtag tools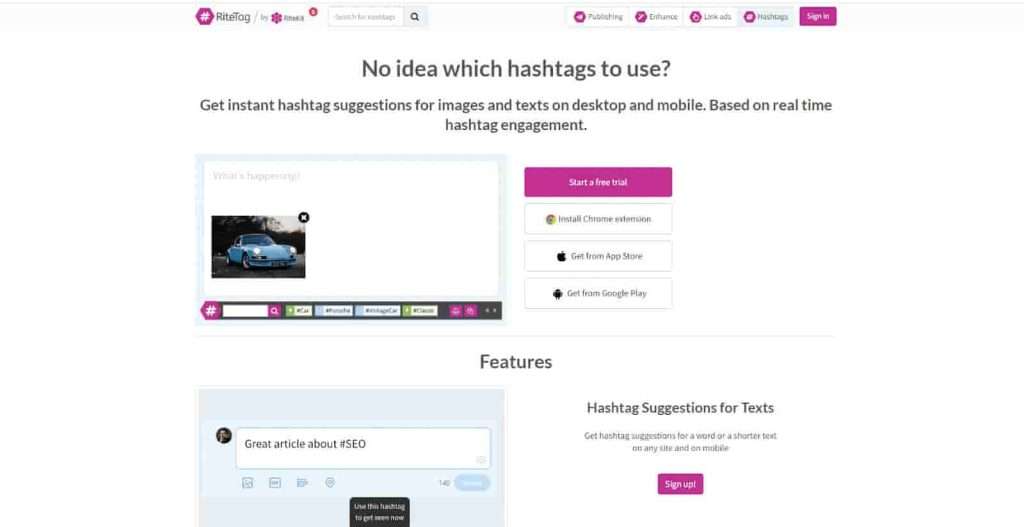 RiteTag enables users to create their own custom hashtag lists based on whatever criteria they choose. This makes it easy for users to create lists of related hashtags for sharing on social media or other applications.
This hashtag tracking tool uses artificial intelligence to analyze data from Instagram, Twitter, and Tumblr and then creates a list of hashtags for you to use for your own research needs.
Pricing
RiteTag is also free to use to generate quality hashtags. Remember, it lets you generate free reports for the last 24 hours only.
Pros
Free to use (for 24 hours only)
Has a dedicated chrome extension for quick results
Apps are also available for Android and iOS
Cons
You have to pay to get 30-day analytics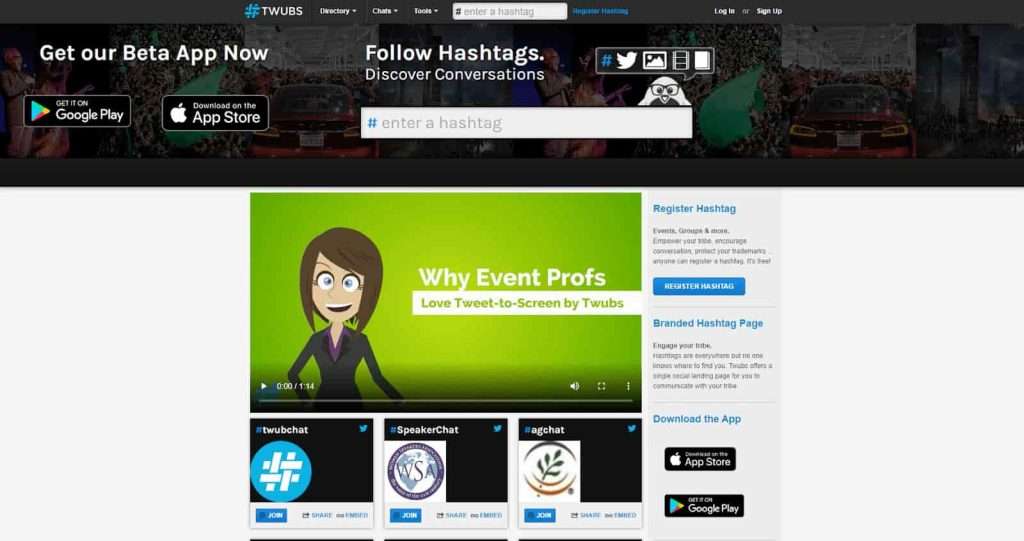 Twubs is another one of the best hashtag research tools that allows you to find trending hashtags, as well as the Twitter users who are using them and the tweets they are making. This makes it easier for you to create your own trending hashtags. Twubs also allows you to view trends over time, so you can see how often a hashtag is being used over time.
You can also see how many times a hashtag has been used across various platforms. You can find out how long ago someone used a particular hashtag, which makes it easy to track trends.
Pricing
For basic you will have to pay $199/month and for Pro plans, $599/month. For Enterprise, you can request a quote.
Pros
Customized pricing plan for your needs
Free 20 hashtags without any registration
Email support, phone support, and live wall events
Con
A little bit difficult to use for a novice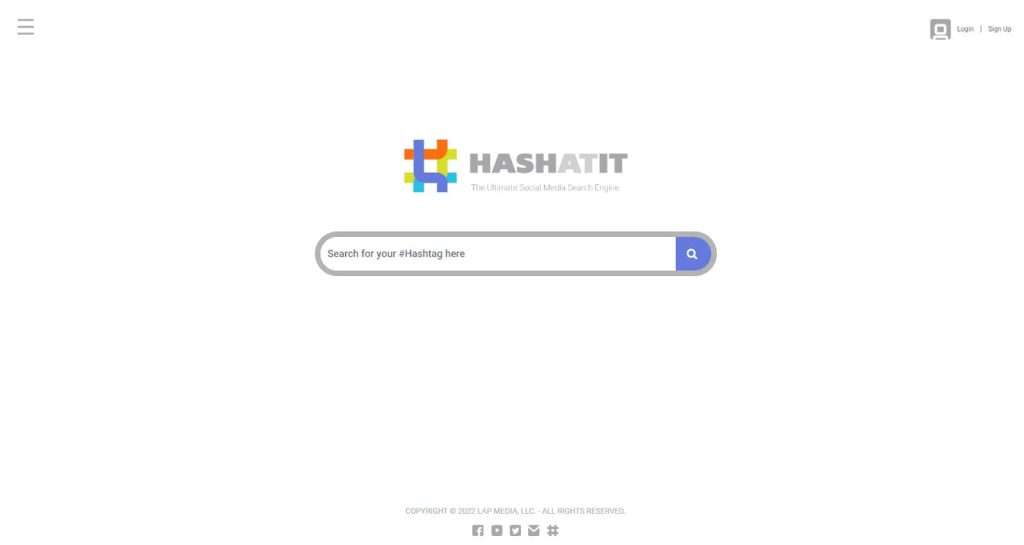 HashAtIt is another free hashtag search tool that allows its users to search for keywords in any hashtag. You can also add your own keywords and get suggestions for other hashtags that might be related to your keyword.
It is a pretty famous hashtag search tool for finding trending hashtags on Twitter. The site features an advanced search engine that lets you filter through hundreds of thousands of hashtags in less than a second. It gives you access to the most recent tweets from each hashtag, so you can see what's being talked about right now.
Pricing
Completely Free
Pros
It helps you find trending hashtags on Facebook, IG, and Twitter
Simple layout for better understanding of analytics
Easier to find posts on social media
Cons
Not vast availability of hashtag data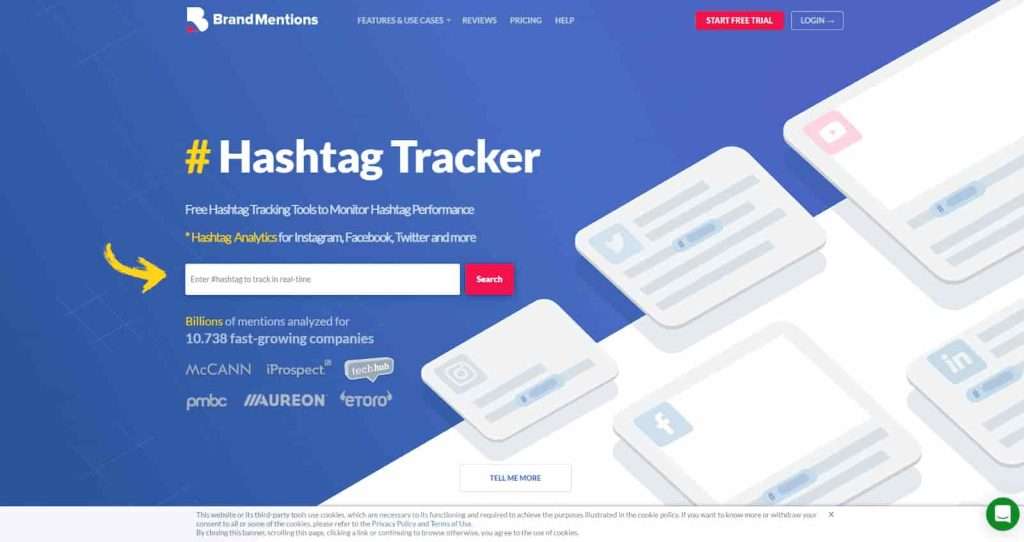 BrandMentions offers one of the most comprehensive lists of trending hashtags. This tool allows you to search for any topic or keyword and get back a list of related hashtags from around the web.
You can also use this hashtag search tool as a way to discover new marketing opportunities by searching for trending topics that relate directly to your business or industry.
Pricing
The Enterprise and Agency subscription is at $499/month. The company and Growing Business Accounts are available at $299/month and $99/month, respectively.
Pros
All pricing plans come with a 7-day free trial
You get data about historical mentions, real-time alerts, and keywords
Customizable reports are available according to your requirements
Cons
Reports could be slightly complicated to comprehend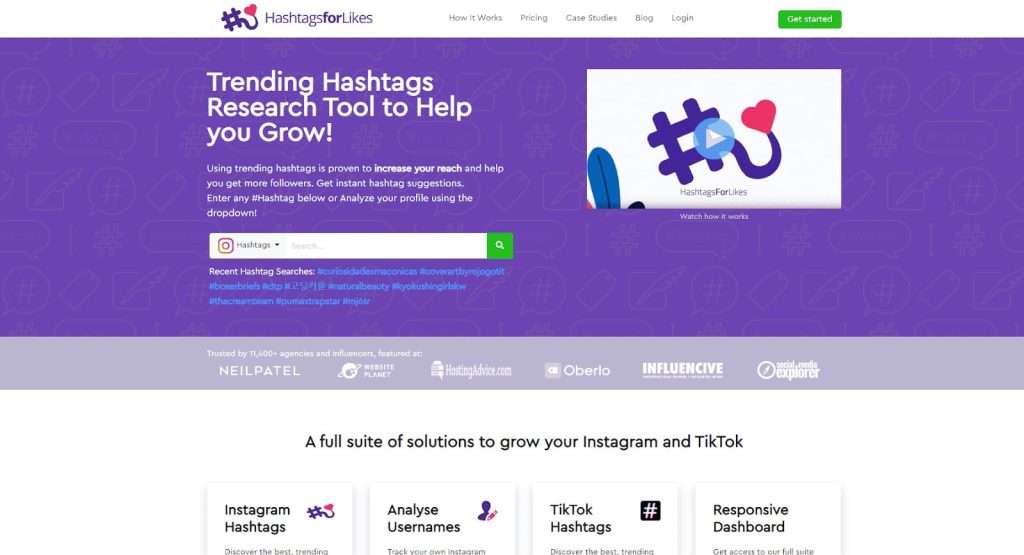 HashtagsForLikes is an app that helps people find likes on their photos or videos by searching through different hashtags and finding ones relevant to their content. It also has a "lookbook" feature where you can see what people are saying about certain photos or videos on Instagram or Facebook.
Pricing
For the regular plan Hashtags for Likes charges $59/month and $89/month for the pro version.
Pros
Dedicated growth manager and hashtag difficulty scoring
Ability to monitor and track competitors
Monthly performance reports
Cons
A few bugs can make things worse when you try to generate reports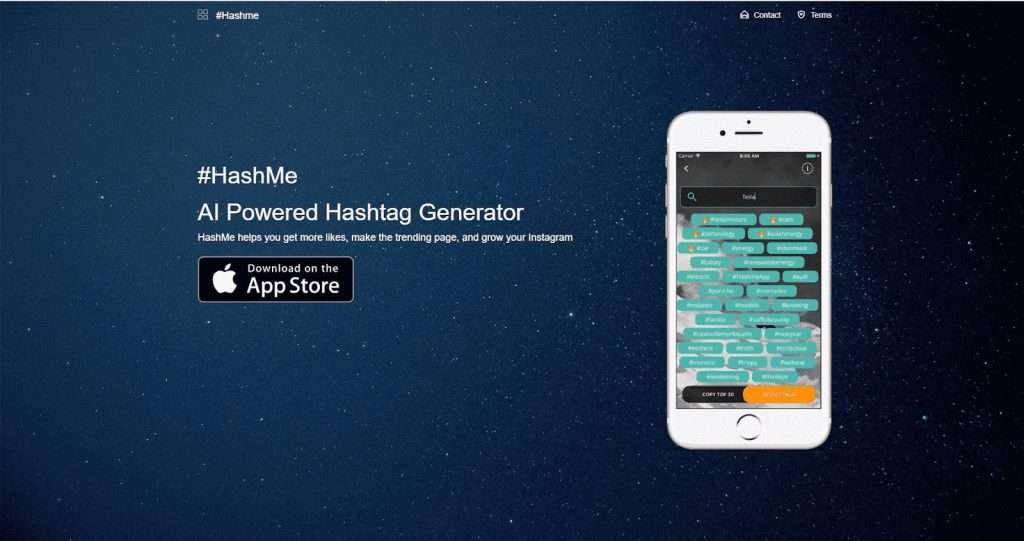 Hashmeapp is an app that lets users search through different social media platforms like Instagram, Snapchat, and Twitter for potential hashtags or topics.
Pricing
Pricing details are not available
Pros
Helps you generate more likes
Dedicated app for iPhone users
Discover trending pages to grow your IG
Cons
Not too versatile for hashtag searches
Three Benefits of Using Hashtag Research Tools
Here are some of the key benefits of using hashtag research tools:
1. Saves time and money
Highlighted hashtags are a great way to save time and money on your marketing campaigns. Using a hashtag research tool, you can easily identify the most popular hashtags in your niche and focus your efforts there. This hashtag search tool also gives you an idea of how relevant those hashtags are to your target audience and helps you narrow down which hashtags will be most effective for your campaign.
Using hashtags is a good way to help you discover what people are saying about your business or brand and who they're talking to on social media. It also helps you identify trends and how to promote your business best.
2. Narrows down your audience
Hashtags narrow down your audience, which means you'll be able to target a specific group of people with your content and promotions. This is especially helpful when you want to reach out to potential customers but aren't sure how they'll respond or their interests.
If you want your audience to engage with your content, they need to be able to find it when they search for it. And since social media is constantly changing, so is the structure of every Hashtag out there.
By using hashtag research tools, you can see what's trending at any given time and figure out if that Hashtag is still relevant for your business. You can then take action accordingly.
3. Increase engagement
Using hashtags can increase engagement by allowing people to easily find posts relevant to them that fit their interests, as well as providing an easy way for them to share those posts with others in their network or comment on them directly from the post itself — all without having to leave their current platform.
Using hashtags allows people to share information more easily – especially with their friends or family members who may not have been following along all along.
By creating a hashtag around a certain topic or event, users can share this information with others who might be interested in hearing about it later on – which means increased engagement from them as well.
FAQs
Which one is the best free hashtag research tool?
Paid tools work way better than free ones. However, if you are looking for one of the best free hashtag tracking tools, then All-Hashtags is the best option.
How to do hashtag analysis?
Doing hashtag analysis is easy when you use the right hashtag research tools. It lets you take a closer look at how each Hashtag is performing at the moment on different social platforms.
What is the best Insta hashtag generator?
If you ask me Hashtagify is by far the best hashtag tool for generating hashtags. This allows you to find one of the best hashtags for Twitter and Instagram.
Conclusion
Hashtags are a great way to engage with your audience and drive them to your website. They're also a great way to track how people are using hashtags on Twitter, Facebook, Instagram, and other social media platforms.
You can use hashtags in your content strategies to make it easier for people who like you or follow you to find your content. This can help you reach more people through your tweets, posts, or comments. It will also help you get more engagement on your posts and comments.
Thanks for reading and hope that our list of hashtag research tools helps you in finding your ideal tool to search for hashtags. If you have any other suggestions about hashtags or Social media management tool kindly tell us in the comments below.
About Author