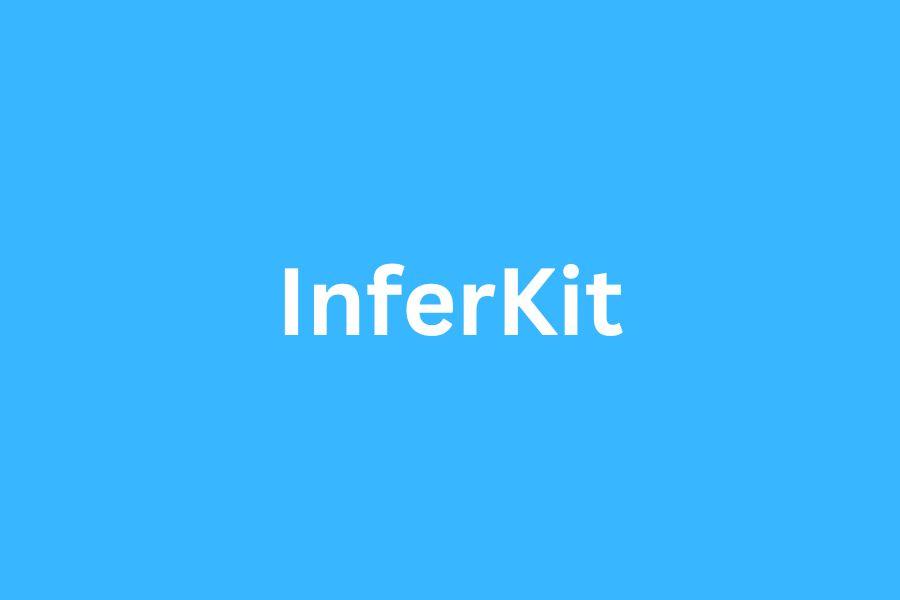 Having trouble generating content because you've hit a wall or ran out of resources for research? Now that artificial intelligence (AI) has advanced significantly; you won't need to worry about this issue as much as it can greatly assist you with tasks like content research, writing, proofreading, and editing.
You can quickly produce content that is of the greatest quality and cannot be distinguished from that of a human writer with the use of AI-powered resources. There are hundreds of online AI-powered tools available to both aspiring writers and seasoned pros. However, we have discussed an outstanding tool called Inferkit here in this article.
What is Inferkit?
For those of you who are not familiar with this name, Inferkit is one of the most sophisticated text-generating tools. It employs advanced algorithms and AI to create content. The results are always free of mistakes and plagiarism and resemble that of a human writer.
Infer kit is specially made to assist freelance writers, content creation teams, and even businesses who wish to produce material in large quantities quickly without sacrificing quality. You can produce a variety of content with the help of Inferkit, including stories, blog articles, product descriptions, marketing material, and much more.
How Does Inferkit Work?
Inferkit, as mentioned earlier, is one of the most advanced text generation tools available online. The inferkit ai tool uses natural language processing, neural language modeling, and machine learning technologies to create text.
infer kit uses a machine learning model to understand a huge dataset containing blog articles, books, social media content, and other types of text. After understanding the context, nature, and style of content with the help of ML, the tool uses NLP technology to create new content based on the input/requirements received from the users.
Inferkit also uses the unsupervised learning technique. This technique makes sure that the tool keeps on learning and improving on its own. Because of the unsupervised learning technique, the tool doesn't need any human involvement for improvement. All three of these technologies and the empowerment of Ai make this tool capable of creating high-quality, informative, and engaging content.
Company Behind Inferkit
Inferkit is a relatively new name in the digital market. This is because Adam Daniel King, who was the original founder of this resource/program, named it Talk to Transformer. This resource was later on changed to Infer kit as it had reached millions of users in the initial years of development. The current whereabouts of the company or the person who owns Inferkit are unknown. It is not being owned by any organization; rather, sources tell us that a group of tech geeks is covertly running this resource!
Infer kit Pricing
If you want to enjoy the services of Inferkit, it is important that you know how much this resource would cost you. The tool uses very advanced Ai powered algorithms, and the results produced by it are quite accurate and engaging. This is why it is obvious that you would not be able to enjoy this premium service for free. Inferkit offers two different kinds of pricing plans for its users. The details of those have been mentioned below for your knowledge.
Basic plan ($20 per month)
The basic plan, which is best for starters, would charge you $20/month. In this plan, the tool would offer you over 600,000 characters every month. If you go beyond this offered limit, you will have to pay an excessive amount for the additional characters. Each additional 10,000 characters would cost you $0.28, which is quite affordable. Other than this cost, you would also have to pay $1 as a purchase fee for the basic plan.
Premium Plan ($60 per month)
If your content load is more and the basic plan and its features don't suffice your needs, then you would have to buy the premium plan. For the premium plan, you would have to pay $60 every month. Against this charge, you would get 2,500,000 characters which is an extensive limit. However, if you wish to get more characters under the premium plan, you would have to pay $0.12 for every additional 10,000 characters. In the premium plan, you also have the option to configure the auto-refill option if you want to accumulate your characters to millions.
InferKit Key Features
Now that you have been introduced to Inferkit and know about its pricing plans, it is essential that you learn about its features. There are many features of this ai text generator tool that makes it better than many other alternatives in this league. Some of the notable features have been mentioned below for your knowledge:
Quick Text Generation
The feature that we like the most is that Inferkit is quite speedy in its working. The tool uses the most modern language model for fresh content generation. Inferkit uses LTSM, an advanced neural network-based model which enables the tool to create huge amounts of text in fractions of seconds. Unlike other tools, InferKit doesn't take time to create new content. All you need is to provide a keyword or idea to the tool, and on the basis of your input, the tool generates highly accurate and readable content.
Multiple Text Generation Options
Another thing that we liked about Infer kit was that it offers three different text generation options. You can include keywords, specify the length to generate, and click on the 'Generate Text' button. You can set the content preferences from the settings sections of the tool. The tool would always generate text according to your given preferences.
Batch Content Creation
Inferkit is one of the few ai text generator tools that offer batch content creation. If you are looking for a tool that can help you create content in bulk in less time, you can go with this inferkit ai tool. You can create thousands of words worth of content with this tool.
Boosts Productivity
The main function of inferkit ai tool is to optimize the content creation/writing process. If you want to complete a write-up on a tight deadline, you can take help from this tool. You can use the tool to generate a complete article, or you can also use the tool to get content that provides ideas, a proper structure, and important information. This would reduce the workload of research work and structuring. So with the help of this tool, you can easily boost your productivity.
Easy to Use
Last but not least, Inferkit is a tool with a neat and clean interface. The tool is very easy to use, and even a newbie can learn how to use this tool without any hassle. You don't have to worry about going through tutorials and guides to use this tool. Anyone with a basic knowledge of tech and tools can create content with Inferkit.
Free Version Available
You can use Inferkit for free but with some limitations. The site would allow you to create up to 10,000 characters in a week without any charge.
What Can You Use InferKit for?
There are different ways you can use infer kit today. In this section, we have explained a few notable applications of Inferkit that you should know about.
Marketing Copy
Inferkit is one of the most helpful tools for marketers. Inferkit uses Ai, which makes it capable of generating relevant and engaging content copies for marketing campaigns. You can create content for emails, advertisements, social media posts, and much more with the help of infer kit.
If you want your business content to be unique, informative and drive conversions, you must create content with Inferkit. By using this Ai powered tool, you can save a lot of time and effort wasted in manual research, ideation, and high-quality content creation.
Writing Assistant
Inferkit can also be used by content writers who want to get ideas and inspiration for stories, novels, magazines, blog posts, and much more. The tool can provide ideas and a proper structure for content development, dialogues, and other guides.
Academic and Business Writing
Inferkit is also ideal for business and academic writing. This tool can be used by researchers, teachers, and students. Users can create high-quality assignments, essays, research papers, and other business papers. You can save time and effort consumed in research work with the help of this ai text generator tool. The quality of content would always be up to the mark and would be polished according to the given input preferences.
Poetry and Fiction
Inferkit is also capable of creating content related to creative genres like poetry and fiction. Today fiction writers and poets can also use this tool to create inspirational content for different types of topics and themes. You can easily get engaging and literary content within seconds with the help of Inferkit.
How to Use Inferkit AI Text Generator?
If you have no prior experience with Inferkit and want to know how to use this, follow the steps we have mentioned below for your knowledge.
Open the tool on your browser, go to the Inferkit homepage
Click on the "Sign Up" button; you can find it at the top of your screen
Create your account; you can register using Google, Facebook, or GitHub account
Fill in your profile form and click on the save button after verifying the information
Select your desired plan and pay for it with your debit/credit card
You can start creating content and enjoy the services of Inferkit
This is how easy it is to use Inferkit and generate Ai optimized content.
FAQs
Is inferkit free?
Yes, you can use InferKit for free from the website. As a free user, you are allowed to generate up to 10,000 characters in a week for creative writing purposes. If you want an increased word limit and enjoy other features, you would have to buy a monthly subscription. The tool offers two plans which are quite affordable as compared to many others in this league.
Does InferKit work on mobile?
Yes, infer kit is an online-based tool that can be used for any device you want. You would just need a browser and stable connectivity to use this tool. You don't have to worry about any compatibility issues while using Infer kit for unique and quality content creation.
Is there a free AI writer?
Yes, there are many free AI tools that can help you with content creation. Open AI and Deep AI are the two most commonly used content generation tools. They are available for free but with some limitations. To enjoy more, you would have to go for their premium versions.
How good is InferKit?
Inferkit is a reliable tool. The tool is programmed to provide consistent and accurate results which complement the given input. You can get quality content from this tool, but it is always important to check and improvise the AI-generated content before publishing or using it to avoid any penalties in case the content gets flagged as Ai generated.
Final Thoughts
Inferkit is one of the most powerful content generator tools for writers, students, researchers, bloggers, and all users related to the writing fraternity. The tool is so much more reliable, and this is because it uses advanced algorithms like NLP and ML, which makes the content human-friendly. Suppose you want to create high-quality and unique blog articles, product descriptions, marketing copies, and much more with this tool. We hope that after reading this guide, you will have gotten complete insights about this powerful text generator tool!
About Author