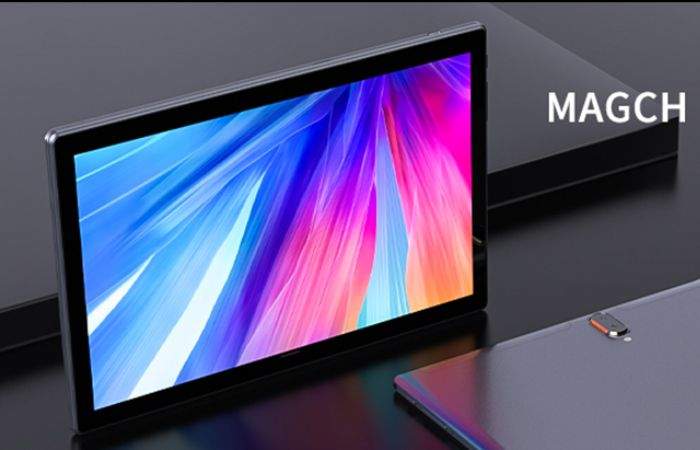 Magch is a new and one of the best tablets in the market that are offering some incredible specs and making the lifestyle better.
The Cherry on the cake is that the tablet comes with a powerful battery that can end up to 10 hours quite easily. So, there is no need to charge the device every couple of hours.
Top 2 MAGCH Tablets
Though there are a lot of tablets that are being offered by MAGCH. But there are always some special options that everyone looks to own.
The same goes for MAGCH tablets as it comes with some top editions that are in demand everywhere.
Here we are going to talk about those two amazing MAGCH devices and discuss their specs so it can become easy for you to choose the right tablet.
MAGCH T10 Specs
MAGCH tablet 10 is an amazing device that the company has launched for heavy duties as it can help you deal with multitasks at once without slowing down the device.
The best thing about this MAGCH tablet is that it offers a full HD display that increases that helps in keeping the users engaged while working on this device.
| | |
| --- | --- |
| OS | Android 11 |
| Processor | 1.8 GHz Quad-core |
| Display | 10.1 inches |
| Back camera | 13 MP |
| Front camera | 8 MP |
| Storage | 32GB |
| RAM | 3GB |
| Battery | 5000mAh |
| Color | Gray |
| Resolution | 1280 x 800 |
Operating System
This MAGCH tablet comes with the latest version of Android 11 and is certified by Google Mobile Services. That means you can run all the android apps on this tablet.
Most of the applications are built-in and the others can be downloaded from the Play Store with their latest version.
Display
The display of the T10 Magch tablet is the most important thing that makes it more attractive and a considerable option to purchase.
Talking about the resolution of this device, it supports 1280 x 800p which makes it convenient to watch videos and play games.
The most important thing about this tablet is that it offers an eye-comfort view that makes the reading experience even better.
Camera
You will get both a front and rear camera in MAGCH T10. 8 MP front and 13 MP rear cameras allow you to catch your favorite moments.
Storage
This tablet comes with built-in 3 GB RAM and 32 GB ROM which is enough as per today's standards. That means you can easily store your special moments as well as install games and applications on this tablet.
Battery
One of the best features of the MAGCH T10 is the battery life which allows you to use the tablet for straight 10 hours without any interruption.
The battery capacity of this tablet is 5000 mAH which is quite larger than the competitors. So, even if you are using it in beast mode, it will help you use it for a long period.
Speakers
The speakers of this tablet are on its back which delivers a good quality sound. The sound would be enough to watch movies and play games.
However, if you are looking to make your experience better, you can go for external speakers.
MAGCH X10 Specs
MAGCH X10 is another addition to the list of the top tablets offered by the company that you can consider as an option.
This latest tablet also allows you to make calls as it supports a dual SIM system. You can also use 3G internet using your cellular data if you don't have a Wi-Fi connection.
| | |
| --- | --- |
| OS | Android 11 |
| Processor | Quad-core Processor |
| Display | 10 inches |
| Back camera | 5 MP |
| Front camera | 2 MP |
| Storage | 32GB |
| RAM | 2GB |
| Battery | 5000mAh |
| Color | Gray |
| Resolution | 1280 x 800p |
Operating System
MAGCH X10 comes with the Android 11 version that allows you to install all the latest games and applications.
Display
The display of MAGCH X10 is quite good which makes it an amazing option to play games as well as watch the videos of your choice.
With its 10-inch screen and 1280 x 800p display, the device makes the visuals crisper and better your experience for using the android device.
Camera
MAGCH X10 supports cameras both front and rear. You will get a 2 MP front and 5 MP back camera in this device.
This is an amazing option that will help you capture the memorable moments in your device and keep them saved for a lifetime.
Storage
You will get 32 GB storage in MAGCH X10 that can be extended to 256 GB with the help of an SD card. This feature makes the device an ideal option for multimedia usage.
Battery
Just like other top models, this one also comes with a long-lasting battery that is 5000 mAH and allows you to work for up to 11 hours. You can charge the battery using a USB-C port.
Speakers
The dual speaker option in MAGCH X10 makes it convenient for users to watch movies and play video games with a decent amount of volume.
FAQs
Here are some queries that are often asked by readers. We will answer them all here so you can clear your doubts before purchasing this device.
Should You Buy MAGCH in 2023?
This is a common question that is asked by a lot of people if they should use MAGCH or not.
The tablet is made by a Chinese company which increases the doubts and makes you think multiple times before choosing this device.
However, the tablet is quite decent for the price that you are paying for it. You can use it for web browsing and social media.
Is MAGCH Tablet Good?
MAGCH tablets are considerable to use for social media usage as well as for the purpose of web browsing.
However, the camera quality of the MAGCH device is not too good. So, if you are a professional photographer or videographer, this tablet is not for you.
Moreover, if you are using it for gaming purposes, it will allow you to play low graphic games however, it becomes slow with high-graphic games.
What Are Some Best Features of MAGCH?
There are a lot of amazing features that you will get in MAGCH. You can have a pretty good device at a reasonable price.
One of the top features that are present in this tablet is that it comes with a 10-inch screen that makes it easy to play games and watch Netflix.
Other than that, the long-lasting battery of this tablet keeps you away from charging it over and over again. In fact, you can use it for 10 to 12 hours with a single charge.
Conclusion
The tablet has become an amazing device for many in modern days as it can help you complete all the jobs that you are doing on a mobile phone.
Magch is an emerging brand in this race that is offering some good quality tablets at cheap rates and making them accessible to everyone.
The display of this tablet comes with 1080p resolution giving it a shiny look at first glimpse. The screen can be quite amazing for playing games and watching movies.
The two devices discussed in this post are quite amazing options as they are offering some top-quality features.
About Author