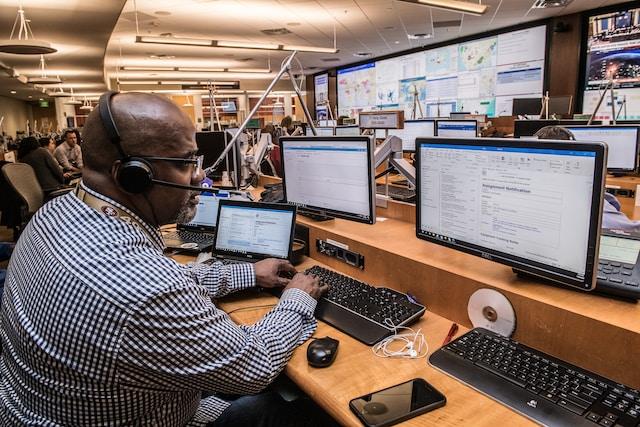 Are you conscious of the importance of maintaining a positive relationship with your prospective clients? What's the secret to it? Effective communication is all it takes to keep your consumers happy and satisfied.
This is where call centers come into the picture. To understand the concept of a call center and its necessity for your business, read through to the end of the article.
What is a Call Center?
Before diving deeper, let's understand what a call center is.
In simple terms, a call center can be defined as an office or department responsible for handling incoming and outgoing customer phone calls to resolve their queries.
The agent handles these calls. And the calls can come from both new and existing clients. The call center is an essential element of customer service in any company.
Besides managing customer calls, the purpose of establishing a call center in large corporations encompasses:
Providing support to clients,
Responding to their questions,
conducting telemarketing
carrying out market research
Gartner outlines a call center as "a department in which employees receive and make high volumes of telephone calls" with both internal and external clients.
Without a doubt, running today's business requires providing the best customer service. And to manage customer support difficulties, businesses with medium-sized to large customer bases often use centralized contact centers.
Without a doubt, running today's business requires providing the best customer service. And to manage customer support difficulties, businesses with medium-sized to large customer bases often use centralized contact centers.
Are Call Centers and Contact Centers Different?
Indeed, contact centers and call centers are distinct entities.
Call centers typically focus on one form of communication: the telephone. However, contact centers provide support through additional channels, including email, websites, and applications.
Contact centers offer omnichannel support, aiding consumers across various channels and devices. The choice between a call center and a contact center depends on the products and services the company offers, the medium it uses for delivering customer assistance, and the internal team structure.
Since customers can connect via various channels like phone, text, message, email, and live chats, the traditional call center has evolved into a contact center.
What is a Cloud Contact Center?
In essence, a cloud contact center solution is a web-based solution that links employees with incoming and outgoing telephone communications. Generally, agents use a cloud contact center solution to make and receive calls from their workspace.
Cloud contact centers allow communication through many mediums, including voice, email, social media, and live online chat, from any place and on any device.
A cloud contact center provides scalability and secure access with minimal setup time and upfront costs. It lets you focus on your company's primary tasks as the cloud contact center manages hardware configurations, ensures improved uptime, and maintains business continuity.
Call Center's Predictive Analytics
Now that you're familiar with every aspect of call and contact centers and the need to have the technology to maintain a perfect relationship between you and your customers, it is time to know how to get an overview of your business procedures and improve decision-making related to call centers.
Well, to do so, there is an advanced technology, such as call center predictive analytics in the market. It can help you predict future events. And these predictive observations will help you enhance your service quality, agent productivity, and practical ability.
And to your surprise, today's call centers have realized the endless potential of this technology. And they are using it to transform the scenario of communication with their customers. Advanced analytics uses current and historical data to gain an understanding of what might happen in the future.
Additionally, predictive analytics software can assist you see future trends by using the latest technologies like
Artificial Intelligence.
Business analytics and intelligence.
Machine learning.
Statistical and predictive modeling.
Sentiment Analysis.
Speech Analytics.
The call center services are affected by various external factors, including changes in customer behavior and market trends. So, these analytics might assist in adding a feeling of stability and control in everyday activities.
How do Call Center Analytics Work
First and foremost, the data is collected from various channels, such as call recording, key performance indicators, and call center software.
And later, the analytics software runs predictive algorithms over these data and identifies the trends and patterns that are likely to repeat in the coming time. These results may let you estimate and look for many aspects of call center activities, such as sales, staff requirements, and customer engagement.
Predictive Analytics in Call Centers: The Best Way to Grow a Business
The best methods for expanding a business using analytics are listed below.
Advance customer experience: Using analytics in your business will help you understand the needs of specific customers even before they reach out. So, you can give them a thumbs up and take the necessary steps to address their issues.
Increase Clients retention: Without a doubt, predictive analytics will improve your client retention rates. The call center has to create a retention plan to engage their customer and repair the relationship practically.
Increases agent's performance: Speech and predictive analytics software can monitor every call and record it to analyze them and reveal the performance issue. And later, a supervisor can resolve the issue reducing the overall evaluation cycle.
Higher sales figure: Analytics can use past sales data to calculate which months are most likely to attain a profit. It can also assist you to deploy agents and enhance sales operations during certain times.
Jobs in Call Centers for Agents
There is an urgent demand for roles within call centers! For those seeking temporary employment or long-term career growth in the customer service sector, working in a call center can present fulfilling opportunities.
However, call centers can be demanding workplaces, each role presenting its unique set of challenges. If you're considering a career in this industry, you might wonder, 'Is a call center job challenging?' Therefore, before embarking on a career in a customer service center, it's advisable to undergo relevant training to understand the responsibilities and challenges associated with the role.
Summing Up
Regardless of the type of goods or services a business provides, maintaining open lines of communication with clients is crucial. Strong customer relationships result in customer satisfaction.
Hence, predictive analytics together with other latest technologies is useful for call centers. It can give you various advantages by improving overall call center performances, such as better customer service, more sales, more productive employees, and profitable operations.
FAQs
What type of services can be outsourced to a call center?
The services that can be outsourced to call centers are customer support, technical support, sales and lead generation, appointment scheduling, help desk services, market research, surveys, and telemarketing.
What technology and software are typically used in call centers?
To improve working, customer service centers often use a variety of technologies and software solutions. This includes automatic call distribution (ACD) systems, interactive voice response (IVR) systems, customer relationship management (CRM) software, call recording and monitoring tools, workforce management software, and omnichannel communication platforms that allow smooth customer interactions in multiple channels.
Can call centers handle multichannel communication, such as email and social media?
Yes! Contact centers can manage several communication channels, including social media and email. For smooth customer interactions across numerous communication channels, they use specific software and skilled personnel, improving customer access and satisfaction.
About Author