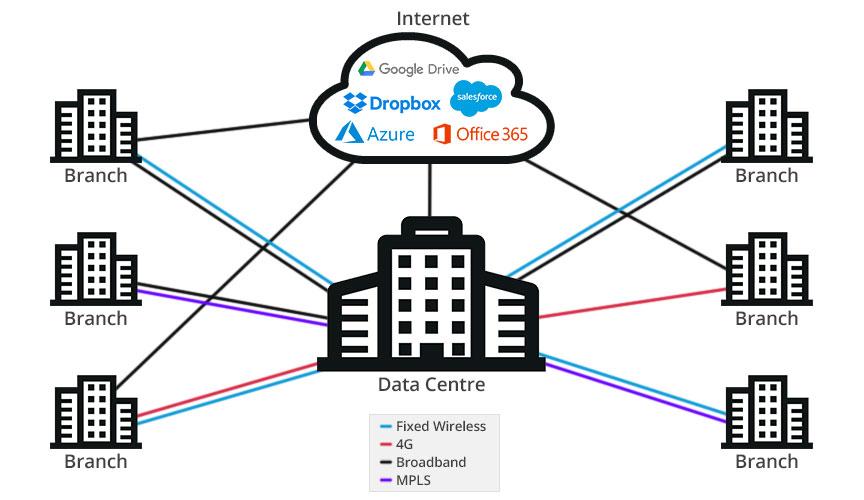 Defining Business Requirements
As technology evolves, businesses must ensure that the technology they invest in addresses their business pain points. This is especially important when it comes to deploying SD-WAN solutions. SD-WAN offers the ability to optimize applications for performance and security while reducing bandwidth costs. As a solution architect, you'll meet with customers, understand their business model and technology's current role in their network, and develop SDWAN and security solutions to address those needs. You'll also need to support the installation process, including initial configuration and testing. One of the main components differentiating SD-WAN from traditional MPLS is its ability to enable organizations to use broadband internet to connect remote sites to their data centers. This reduces costs, improves bandwidth and application performance, and delivers greater reliability by using multiple routes for connectivity. Other important features include WAN optimization (which provides more efficient bandwidth use by lowering latency and packet loss) and application visibility (which enables IT teams to monitor the performance and availability of key applications). SD-WAN can also help with network security, as it can limit access to certain sensitive information by encrypting traffic over the WAN. Another advantage of the SD-WAN solution architect is handling a complete transport outage without disrupting business-critical applications. Using a business-driven SD-WAN architecture, which is implemented in a managed service by the provider, you can achieve this by routing traffic through a global private backbone and leveraging multiple local Internet connections at each site for backup.
Identifying Business Needs
SD-WAN solutions provide administrators with a bird's-eye view of network traffic, which is key to optimizing application performance. Using granular visibility, it is easy to prioritize mission-critical and real-time data services to address application latency that can negatively impact user experience. This also allows for capacity planning and optimizing critical applications for better business outcomes. During the requirements-gathering stage, an important element is a full understanding of a company's current and future network needs. This includes the growth rate of the network and its users, the type and volume of traffic, how much data is being accessed by each user, and how often critical applications are used. For instance, an organization that relies on real-time networking applications like virtual desktops and voice may consider a managed SD-WAN solution with built-in next-generation firewall functionality. This type of architecture is ideal for keeping network traffic off the public Internet and ensuring high reliability, security and performance. It is also beneficial to look at historical network performance and data usage over days, weeks, months or even years. This helps to identify performance trends, such as recurring bottlenecks and congestion periods. It can also help to determine whether to implement additional capacity upgrades. Additionally, this data is valuable when identifying the root cause of a network issue or outage, which can help prevent future problems.
Developing a Strategy
SD-WAN is a key part of many digital transformation strategies and enables businesses to meet their "anytime, anywhere" work goals. The technology can help improve workplace performance, productivity and collaboration while delivering a great user experience. However, implementing an SD-WAN solution is challenging. For example, IT teams must carefully plan how the network will be managed and secure, essential in a world of evolving security threats.
In addition, IT leaders must ensure that they can meet business application performance requirements with various connectivity options. Many advanced SD-WAN solutions offer features that address these requirements, such as application optimization, which delivers a more consistent application experience over the wide area network. Others feature a secure WAN architecture that combines an overlay with a global private backbone to provide high-speed, reliable connectivity and support for cloud applications.
Additionally, some providers offer an SD-WAN as a service option that eliminates the need for complex changes at each site. This can save IT staff time and effort and help them scale the solution to meet business needs. If an organization chooses this route, the provider can handle device management and policy updates – freeing IT to focus on more strategic projects. This approach also can enable faster deployment of new capabilities because it avoids the need to create virtual routing segments, implement access control lists, and apply quality of service policies at each location.
Implementing the Strategy
Network performance must remain high as your organization progresses with its digital transformation initiatives. Yet, traditional WAN architectures must be better equipped to handle these initiatives' workloads, complexities and demands. This often leads to unreliable connectivity and slow application response times at branch offices, home offices and remote locations. A software-defined wide area network (SD-WAN) enables organizations to automate their WAN infrastructure, which improves WAN performance and provides visibility into network applications, devices, and users. This centralized management solution also allows for quick policy changes and simplified troubleshooting at scale.
For example, let's say your company runs several real-time applications. The problem is that when those applications are sent over the public Internet, they can experience high latency, packet loss and jitter. SD-WAN can alleviate this problem by directing real-time traffic over a private backbone, which helps improve application and connectivity performance.
Additionally, an SD-WAN can improve last-mile performance by leveraging transport methods like xDSL, cable, 5G and more. This eliminates the trombone effect and ensures employees can use cloud-based and SaaS applications regardless of location. Lastly, SD-WANs can implement link bonding to provide increased resilience and uptime. This can be a big win for your organization, especially when implementing a hybrid IT environment.
About Author