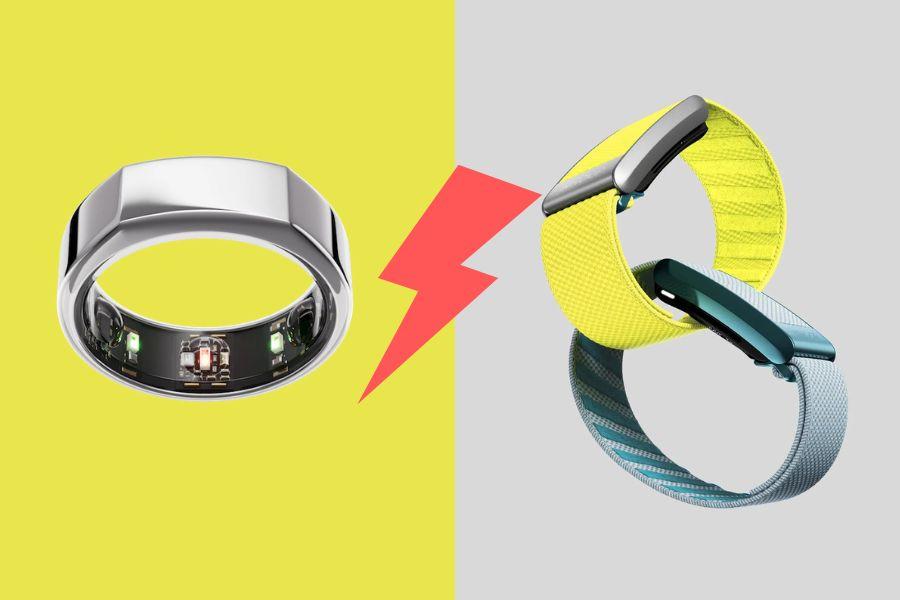 Are you looking for the best fitness tracker that doesn't have any display screen? Well, there are two top-rated options available in the market that includes Whoop 4.0 and Oura Ring.
Users often get confused while picking the fitness tracker between these two and find it difficult to choose which could be the right option for them.
If you are also the one looking for assistance on these fitness trackers, no need to worry because we are here with a guide on Oura Ring Vs Whoop.
We will discuss the features of each of these fitness trackers so you can pick the right option for yourself.
Oura Ring Vs Whoop 4.0 Comparison
Here is a brief comparison between Oura Ring and Whoop:
Oura Vs Whoop In Price
Let's start with the price of these fitness trackers. You must know how much it will cost you to wear each of them.
For Oura ring 3.0, the prices start from $349 for the black ring, $449 for matte black, $499 for gold, and $549 for rose gold. So, it's your choice which color you are going to pick.
Additionally, you will have to pay $5.99 for a monthly subscription in order to get the data insight that you can get in the Oura mobile application.
Now coming toward Whoop 4.0, the band is free itself but you have to get a paid subscription for using it.
The monthly subscription to this tracker is $30. You can get a discount on a yearly plan as the price goes down to $24 and for 18 months, you will have to pay $18.
Oura Ring Vs Whoop in Design
Since both Whoop 4.0 and Oura Ring 3.0 don't have a display so it could be difficult to decide which one is more attractive. The reason is that it's your choice which fitness tracker you will pick.
Oura ring is a smart ring that you can wear on your index finger. So, you will get a chart of sizes and you have to decide which size you are going to pick. This ring has LED sensors of two colors that are green and red. The green one tracks your heartbeat while the red color monitors the blood oxygen.
Now if we talk about the Whoop 4.0 hand tracker, it is a band that you need to wear around your wrist so it can be adjusted as per the size of your wrist.
In this fitness tracker, you will get five LED lights that include a red, an infrared, and three green lights. Just like Oura, it also tracks heartbeat, blood oxygen, and skin temperature.
Oura Ring Vs Whoop in Comfort
While you wear the fitness tracker, you may look for a comfortable option that you wear all the time without feeling any burden. For that purpose, we have tested both these products.
Oura 3.0 is very comfortable and you can wear it 24/7 without any discomfort. One of the best things about this fitness tracker is that it is waterproof so you don't have to worry if there is sweat on your hand.
Whoop 4.0 is also very comfortable to wear. This 1.5 inches long and 1-inch wide band gives a very premium look on your wrist. On the top, this fitness tracker is also waterproof. So you wear it while you go for a shower or swimming.
Oura Ring Vs Whoop in Battery Life
This is an important thing to discuss here because a lot of people are concerned about the battery timing of the fitness tracker and fortunately both of these products have good battery life.
First, we will talk about Whoop 4.0 which you can charge in almost two hours and it will last in five days. That means once you charge this item, you can use it for the next few days without any worry.
Oura ring on the other hand can get fully charged in just 20-80 minutes and most importantly the battery can last for 7 days quite easily.
Bottom Lines
After doing a comprehensive Oura Ring Vs Whoop comparison, it will become easy for you to pick the right item for your use.
If we give our opinion on these fitness trackers, the Oura ring is the right option that you can wear in your home or office and even while you are sleeping.
However, Whoop 4.0 has its own benefits as it will allow you to record fitness data. Moreover, you can also wear it on different body parts other than the wrist.
So, both of these fitness trackers are handy choices and you need to pick one of them as per your requirement.
About Author