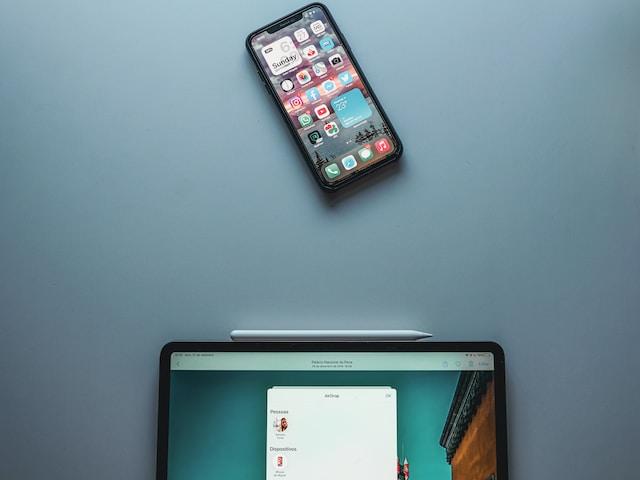 Airdrop, an exclusive feature found on iPhones, revolutionizes the way users wirelessly exchange files, pictures, and various forms of content with nearby Apple devices. Gone are the days of relying on cumbersome cables or internet connections for data transfer.
Airdrop establishes a direct and secure link between compatible devices through a clever blend of Wi-Fi and Bluetooth technologies. This innovative connection seamlessly facilitates the swift and efficient sharing of files among iPhones, iPads, and Macbooks.
The versatility of Airdrop proves invaluable in numerous scenarios, providing a hassle-free solution for content sharing between Apple devices. Whether sending cherished vacation photos to a dear friend or swiftly exchanging vital documents with a colleague in a meeting, Airdrop streamlines the process, eradicating the need for bothersome email attachments or physical transfers.
It's important to note that both devices must have Airdrop enabled and be near one another to utilize this feature. Furthermore, Airdrop is compatible with iOS 7 or subsequent versions, ensuring widespread accessibility and convenience.
How to change your name on airdrop on iPhone
Here's How to change the airdrop name on an iPhone device: settings> General> About> tap name> now add a new name and click done. The detailed procedure is given below:
1. Go to Settings > General > About on your iPhone.
2. Now, you need to tap "Name."
3. Here, you can add a new name you want to assign for the AirDrop.
4. Once you have added the new name, click "Done" to save.
5. Your iPhone will update the AirDrop name.
Remember that the AirDrop name change won't affect your iPhone's name in other situations, such as iCloud or Bluetooth connections.
How to Change AirDrop Name on Mac
Here's how to change your airdrop name on Mac:
1. Start up your Macbook and log in to your user account.
2. Click on the Apple menu in the screen's top-left corner.
3. From the dropdown menu, select "System Preferences" Or "System Settings."
4. In the System Preferences window, find and click on the "Sharing" icon.
5. Within the Sharing preferences, your current computer name is displayed at the top.
6. To change airdrop name, click the "Edit" button.
7. A text field will appear, showing the current name. Erase the existing name and input the new name you wish to set for the AirDrop on Mac.
8. Once you've entered the preferred name, close the text field or press the "Enter" key.
9. Your Mac will save the new name, and you'll notice it as the updated AirDrop name.
Remember that altering the AirDrop name on your Mac won't impact the computer's name in other aspects, such as network settings or file sharing.
How to Change AirDrop Name on iPad
Here's how do you change your airdrop name on iPad through the following steps:
1. Unlock your iPad and go to the home screen.
2. Tap on "Settings."
3. Scroll down and select "General."
4. Now tap "About."
5. Hit "Name."
6. Enter the new name you want to allocate for AirDrop.
7. Tap "Done" to save the new name.
8. Your iPad will update the name according to your preferences, and you'll see the change in AirDrop settings.
Please note that changing the AirDrop name on your iPad won't affect its name in other contexts or devices.
FAQs
How to change my airdrop name?
On your iPhone, launch the Phone app. At the bottom, tap Contacts. +- Tap on the topmost contact card.
Tap Edit in the top right corner.
When someone AirDrop files to you, type the name you want them to see. Click Done in the upper right corner after that.
Why I can't change my AirDrop name?
Because it is linked to the name of your device, you cannot modify your AirDrop name.
How do I find my AirDrop name?
Go to the Settings app on your iPhone or Mac and look for the "General" or "System Preferences" section to find your AirDrop name. Your AirDrop name is the name of your device.
How do I change my AirDrop name on my iPhone and Mac?
To change your device name on an iPhone, go to Settings > General > About > Name. This will also alter your AirDrop name. To modify your AirDrop name on a Mac, go to System Preferences > Sharing and alter the "Computer Name" field.
How do I change the AirDrop settings?
Go to the Control Center or System Preferences, respectively, to access the AirDrop settings on an iPhone or Mac. For AirDrop visibility, you can select "Everyone," "Contacts Only," or "Receiving Off" and change other relevant options.
About Author