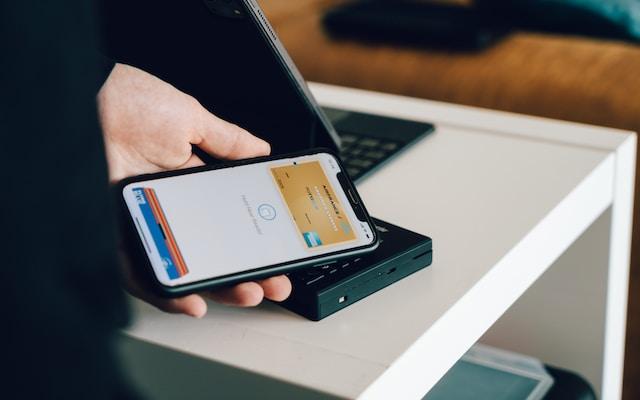 Business owners always look for three common elements in the payment methods, i.e. secure, fast, and simple. This will help both the client and the customer at a time.
Apple Pay service is an appropriate way in this regard as it provides you with security and accuracy at the same time.
Getting Apple pay for the business can make your job convenient but before that, it is important to learn how it works and how it is used.
One of the best things that you will get here is that you can use it on all your Apple devices no matter if you have a mobile phone, watch, iPad, or even MacBook.
In today's blog post, we will tell you the method of how do you use apple pay in stores along with its advantages. But before that, we will give you an idea about Apple Pay.
What is Apple Pay?
Apple Pay is the mobile payment method introduced by Apple that allows users to pay their bills using Apple devices like iPhone, iPad, watch, or MacBooks.
This is a convenient method for customers to clear their payments at the shopping malls as they don't have to carry cash with them all the time.
Similarly, business owners also get the benefit of it as they get all their money in the bank account directly.
One of the top benefits of using Apple Pay is that the users get extra points on every single transaction that they can use to purchase new items.
How Does Apple Pay Work?
Apple Pay is the wallet system introduced by Apple that allows users to check out and pay their bills by holding the device on the card reader.
This contactless payment system is very easy to use and secure as well. There is no threat of any fraud while you make payment using this method.
Apple Pay uses an NFC system that helps the two close devices communicate. This powerful system makes the entire procedure quick.
Other than that, tokenization technology is used in this system that ensures the security of the transactions.
Once you hold the device on the card reader, it will ask you for the face ID or touch ID. Enter the code and you will feel a beep on your system.
So, this is quite an easy and simple process that will let you do your job with great ease.
How to Use Apple Pay?
The working process of Apple Pay is very simple. There are just a few steps that you will have to follow and the payment will be made quickly.
In this section, we are going to talk about the procedure that you will have to follow to pay with Apple pay.
By following these steps, you can easily make payments in stores where Apple Pay is acceptable. Let's discuss each of these steps in detail.
Here's how to use apple pay: Add card in Wallet app > double-click side button > verify with Face ID > hold near payment terminal to pay.
The steps in detail are below:
Set up Apple Pay in the Wallet app
The first step to start Apple Pay is that you have to add the details of credit/debit card details to the wallet.
You can do this on your mobile phone by going to the settings or directly opening the wallet application that will be placed on the home screen.
Tap on the Add Card Button and Enter Info
On the wallet app, you will see the plus (+) icon in the top right corner. Click on the icon and select the type of card, i.e. credit or debit card.
Add further details of the card that includes your name, card number, etc. After giving all these details, select it as the primary payment method.
Here you will get a verification message that is just for security purposes. This will not take more than one minute.
When you're Checking Out, Double-Click the Right-Side Button
Now, you have set up the card in the wallet app and you can use it anytime while paying your bills in the stores.
To open the card, double-click on the right side of your mobile phone and it will open the cards on the screen through which you can make payment. Choose the preferred card from which you are willing to pay.
Enter Your Passcode or Use your Face Id to Confirm Payment
Once you have selected the card from where you will make payment, the next step is to enter the passcode to precede the payment.
You can also use the Face ID method for verifying the payment and paying for your purchases.
Hold Your iPhone near The Payment Terminal
The last step is to hold the mobile phone near the card reader so that the transaction can be made. This will only work if the NFC is working on your mobile phone.
After making the payment, there will be a gentle buzz on the mobile phone that will notify you that the payment process has been completed. So, it is that simple. Next time you just have to open the application and give your passcode to pay your bills.
What are Apple Pay's fees?
The short answer to this question is "No". Apple will not charge you for making payments whether you are making payments from the iPhone, watch, or iPad.
Interestingly, there is no limit for Apple Pay. Unlike the contactless cards that allow you to spend £ 100 only, there is no such restriction here.
Where Can I Use Apple Pay?
Since Apple Pay is considered the quick and secure method to make payments so it is rapidly growing and you can find it on all the super stores.
If you are at the gas station, grocery shop, or pharmacy, you will get this payment method everywhere with great ease.
It all started in the US but now it is available in most of the countries like France, Germany, United Kingdom, Italy, India, and many other countries.
So, in short, this payment method is recognized internationally and you can use it everywhere to clear your payments.
Apple Pay Advantages
In the manual payment method, there are a lot of hurdles that you may have to face. Similarly, you may also face some issues while using the credit/debit card in the stores as some of them may not work in a particular shop.
So, here the best method is to use Apple Pay. The biggest advantage of this payment method is that you can use it everywhere and with all your bank cards.
There are also many other benefits that can be availed of using Apple Pay and here we are going to discuss all of them in detail.
It's fast
The working process of Apple Pay is quite simple and ultrafast. You will not face any complexity while making payment from here.
There are just a few steps that you will have to follow while entering the details of your card and once the card information is added to Apple Pay, next you will just have to give your passcode or face id.
So, unlike other payment methods, you will not have to go through detailed procedures. Just place your phone near the card holder give your Face ID and here we go. You made the payment.
It's safe
One of the best benefits that you will witness in this latest technology is that it is very secure to use. Your information will never get leaked while you use this way for transactions.
Even if your mobile phone is stolen, no one will be able to use the wallet because it will ask for a face ID or passcode. This feature makes Apple Pay a secure and reliable option to use for making payments in stores without any security concerns.
It's convenient
As we have discussed earlier that the setup process of Apple Pay is quite simple, and this element makes it a convenient option.
Just open it on the mobile phone or watch and place it near the card reader. Give your passcode and clear your bills easily.
Another convenience that you will get while using Apple Pay is that you will not have to carry a wallet or cash with you.
It's great for traveling
This payment method is available in most stores all over the US so there is no need to worry if you can make your payments or not.
Traveling can become easy for you as you can use it even at gas stations. This feature creates convenience for the users.
Is Apple Pay Secure?
This is a common question that comes to the mind of every user while using any technology. The reason is that people are concerned about privacy and making themselves secure from cyber-attacks.
In the case of Apple Pay, it is a very secure payment method that will never share your information with any other party. In fact, all the transaction details will be encrypted so no one will get access to it.
Other than that, before paying the bills you will have to give a passcode or face ID for verification. This element makes this method more secure and keeps scammers away from using your account.
Since your card is encrypted, even if the thieves steal the mobile phone they will not be able to access the details of the card from here. This feature has made the technology more reliable and handy for users.
FAQs
How to use apple pay?
Set up Apple Pay in the Wallet app
Tap on the Add Card Button and Enter Info
When you're Checking Out, Double-Click the Right-Side Button
Enter Your Passcode or Use your Face Id to Confirm Payment
Hold Your iPhone near The Payment Terminal
How to open apple wallet?
Double-click the side button if your iPhone has Face ID. To open Apple Wallet, use Face ID or enter your passcode if prompted.
How to pay with apple wallet?
Click the side icon twice.
When your default card appears, you can authenticate with Face ID or a passcode by looking at your iPhone.
Hold the top of your iPhone close to the card reader until the screen displays Done and a confirmation.
Can you use apple pay at gas stations?
Yes, you can use apply pay at gas stations
About Author